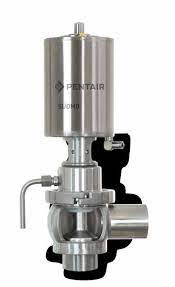 Pentair Südmo's SVP Select single seat valve line provides solutions forthe most stringent hygienic and aseptic processes requirements in the be-verage, food, dairy and pharmaceutical industries.
The valves series provides the best basis for efficient and safe production processes due to the wide variety of options provided by our modular syst-em, ease of maintenance, cleanability, and the options for the valves to meet the latest hygiene and aseptic requirements.
x
Or fill in contact information to receive detailed information and support advice on the most accurate product.
MATERIAL
Product contact area
1.4404 (AISI 316L)
Non-product contact area
1.4301 (AISI 304) / 1.4307 (AISI 304 L)
Optional
High-quality materials
Sealing materials *
Elastomers: EPDM/HNBR/FKM
Plastics: P³/PEEK
PRESSURES
Control air pressure
Standard 6 bar (87 psi) – 8 bar (116 psi)
Operating pressure
10 bar (145 psi) in case of nominal sizes:
DN 10-20, OD tube 0.5″/0.75″, ISO 08-15
6 bar (87 psi) in case of nominal sizes:
DN 25-100, OD tube 1″ -4″, ISO 20-80
5 bar (72.5 psi) in case of nominal sizes:
DN 125-150, OD tube 6″, ISO 100-1
SURFACES
Product contact Ra ≤ 0.8 μm
Non-product contact Ra ≤ 1.6 μm
Optional
High-quality surface finish, electropolished
CONNECTIONS
Pipe connections in accordance with
−DIN 11850-2 (DIN 11866-A)
−ASTM A270 (DIN 11866-C) (ASME BPE-2009)
−DIN EN ISO 1127 (DIN 11866-B)
Related products