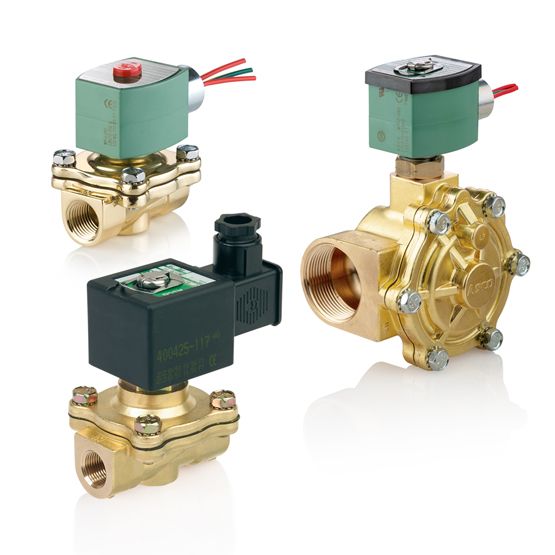 ASCO™ Series 210 Solenoid Valves
The ASCO Series 210 is a line of economical, high-flow solenoid valves for liquid, corrosive, and air/inert gas service. With a wide range of pressure ratings, sizes, and resilient materials, the ultra-reliable 2-way valves provide long service life and low internal leakage. Industrial applications include car wash equipment, air compressors, pumps, laundry equipment, and industrial water control.
x
ASCO™ Series 210 Solenoid Valves
Or fill in contact information to receive detailed information and support advice on the most accurate product.
| | |
| --- | --- |
| Body Material | : Brass |
| Flow (Cv) / Flow (Kv) | : 4.00 / 3.46 |
| Function: | : 2 way – 2/2 Normally Closed |
| Pipe/Port Type & Size | : NPT 3/8 |
| Media | : Air, Inert Gas, Water, Light Oil |
| Min to Max Operating Pressure (Air) | : 5 – 200 PSI |
| Min to Max Operating Pressure (Water) | : 5 – 150 PSI |
| Min to Max Operating Pressure (Light Oil) | : 5 – 135 PSI |
| Product Weight | : 1.90 lbs |
| Order Code: | : 20032 |
| Min to Max Ambient Temperature | : 32 – 125 °F |
| Min to Max Fluid Temperature | : 32 – 180 °F |
| Voltage & Frequency | : 120 Volts AC with 60 HzCarton |
| | |
Related products